The home improvement industry is facing a significant challenge - a shortage of skilled labor. This shortage has led to increased competition for qualified workers and has made it increasingly difficult for contractors to find and retain talented individuals. By exploring alternative hiring practices, contractors can expand their talent pool and foster the growth of a skilled workforce.
Challenges Faced by Home Improvement Contractors
Limited Pool of Skilled Labor: One of the primary challenges faced by contractors is the limited availability of skilled labor. With fewer individuals entering the construction trades, contractors face intense competition when trying to recruit experienced professionals.
High Demand and Competitive Wages: The demand for home improvement projects has surged in recent years, putting additional strain on contractors to find skilled workers. The increased demand has led to rising wages, making it difficult for small and medium-sized contractors to compete with larger companies offering higher pay rates.
Aging Workforce: Another contributing factor to the skilled labor shortage is the aging workforce. Many experienced tradespeople are reaching retirement age, and there are not enough young workers entering the industry to replace them. This widening gap further exacerbates the shortage of skilled labor.
Solutions for Finding Skilled Labor
Hiring from Outside the Industry: To expand the pool of potential candidates, contractors can consider hiring individuals with transferable skills from other industries. While they may require training and acclimatization to the home services trades, these candidates can bring fresh perspectives and diverse skill sets that can be valuable to the business.
Providing Ongoing Training and Promotion Opportunities: Contractors can invest in ongoing training programs for their existing workforce to help them develop new skills and advance within the company. By promoting from within, contractors can retain experienced employees and motivate others to acquire new skills, ultimately reducing the reliance on external hires.
Collaborating with Trade Schools and Vocational Programs: Building strong partnerships with trade schools and vocational programs can help create a pipeline of new talent entering the home services trades. Contractors can offer internships, apprenticeships, and sponsor educational programs to attract young individuals who are interested in pursuing a career in home improvement.
Developing Mentorship Programs: Implementing mentorship programs within the company can be an effective way to bridge the skills gap. Experienced workers can mentor and train new employees, sharing their knowledge and expertise. This not only helps develop the next generation of skilled labor but also fosters a sense of camaraderie and loyalty among the workforce.
The EGIA Foundation: An Ally for Home Improvement Contractors
The EGIA Foundation is a non-profit organization committed to increasing the number of students entering the home services industry by changing the perceptions within the general public and fostering connections between students and job creators.
By promoting the benefits and opportunities available in the home services through various initiatives – such as education and awareness campaigns – we specialize in spearheading programs that provide valuable assistance to contractors struggling with the skilled labor shortage.
The EGIA Foundation's HVAC HERO Scholarship program raises awareness about the rewarding careers in the industry and removes financial barriers to attract more students to become skilled workers in the home improvement sector.
Additionally, the EGIA Foundation facilitates connections between students and job creators by partnering with trade schools and vocational programs. By supporting these institutions, the foundation ensures that students receive quality education and hands-on training, making them better prepared to enter the workforce.
To find out more about EGIA Foundation's programs and to participate in our vision to create a nation where undergraduate students, parents and school advisors view HVAC and other home service trades as a first-choice career, visit EGIAFoundaiton.org or contact Lucas Ehrbar today.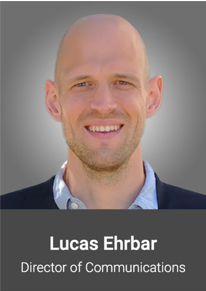 Lucas Ehrbar is the Director of Communications for the EGIA Foundation. Lucas coordinates the Foundation's various outreach efforts, including promulgating accomplishments and announcements through the media, crafting press releases and other promotional materials, and communicating its activities to the same general public and industry stakeholders that the Foundation was created to serve.
Lucas comes to the EGIA Foundation from the Electric & Gas Industries Association, where he is the Director of Communications & Marketing Partnerships. In this role, he oversees content creation and marketing outreach for potential members, conceives and executes ongoing communications to current members, and coordinates EGIA's partnerships with industry companies.
Lucas has a Bachelor of Science in Business Administration with a focus in Marketing from the University of Oregon.